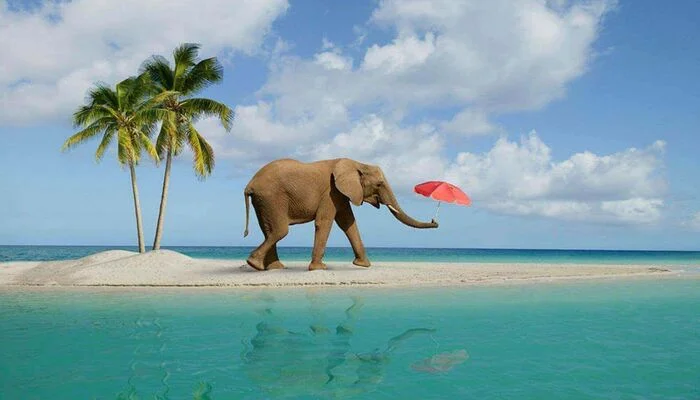 Elephant Beach is very famous for the bright coral reefs that one can find at a depth that is as shallow as just one meter.
There are also quite a few refreshment places in and around the beach, where one can grab some snacks, or enjoy a proper delicious fresh seafood meal made from the catch of the day.
Visiting the Elephant Beach is ideal for all kinds of people, whether you are traveling with a group of friends, with your family or even your special someone. There are enough activities to keep you occupied the entire day. Children will enjoy splashing in the waves and trying out various water sports, while the adults can just lay back on the beach and enjoy the pleasant climate, as well as some refreshments. Make sure not to miss out on the scuba diving, as it is the most popular activity around the beach, and can be done by all age groups.
How to Reach the Elephant Beach From Port Blair
Elephant Beach is located close to Havelock Island, and since Havelock doesn't have an airport of its own, you will first need to reach Port Blair, and then take a ferry or a boat to Havelock Island.
1.By Air: Veer Savarkar International Airport, also known as the Port Blair Airport is located close to the town center, and one can easily take a ferry from Port Blair to Havelock upon reaching.
2.By Boat: You will need to take a ferry from Port Blair to Havelock first, and the journey takes around 70 kilometers, or one and a half hours to complete. From the Havelock Dock, you can take another boat, and in twenty minutes, you will reach the Elephant Beach. These boats travel on a frequent and regular basis, so you don't have to worry about missing a boat and not making it to the beach.

3.By Road: Upon reaching Havelock Island from Port Blair by ferry, you can choose to ditch the boat and take a beautiful walk to the beach. The path of the walk is surrounded by lush green trees that provide shade and make this walk a very pleasant experience.
Timing to visit
The beach is open from early in the morning, and ferries start traveling as early as 7 AM in the morning. The beach is only open for day trips and the last ferry leaves from the beach at around 3:30 PM the entire beach shuts down at around 4 PM. If you want to experience all the facilities and activities the beach has to offer, then make sure to leave early and plan to spend an entire afternoon at the beach, so you can enjoy all the water sports activities without having to be in a hurry.
Elephant Beach is one of the most popular attractions in the Andaman and Nicobar Islands. This delightful beach is on Havelock Island and you have to take a ferry to get there. The panoramic views of Elephant Beach are sure to make you fall in love with this charming spot. It is one of the cleanest beaches in India, offering an exclusive experience for travelers looking for peaceful explorations during their Andaman vacation. As Elephant Beach grows in popularity, you can take a day trip to this beach while exploring nearby beaches like Radhanagar Beach, Kalapathar Beach and mangroves. The beach attracts wanderers from across the continent with its dazzling coral reefs that can be observed at a depth of just one meter. Elephant Beach also has many adventure water sports excursions including swimming, kayaking, fishing and more! Read on for details on this stunning beach that guarantees the most awe-inspiring stay with its crystal clear waters and golden beaches surrounded by green forests. The best time to visit Elephant Beach depends on the purpose of your visit. This beautiful beach on attractive Havelock Island is best explored in winter, that is, from December to February. Temperatures range from 19 to 26 degrees Celsius in winter, making it a comfortable place to relax. sightseeing. Whether you want to relax in the peaceful locations of this beach or go on water sports adventures, an expedition to Elephant Beach in winter is sure to make you gather countless memories full of inspiration. Summer is quite hot and humid making visitors uncomfortable and a little uncomfortable. However, the monsoon here is wonderful and gives you the opportunity to admire the wonderful beauty of this peaceful Elephant Beach.
---