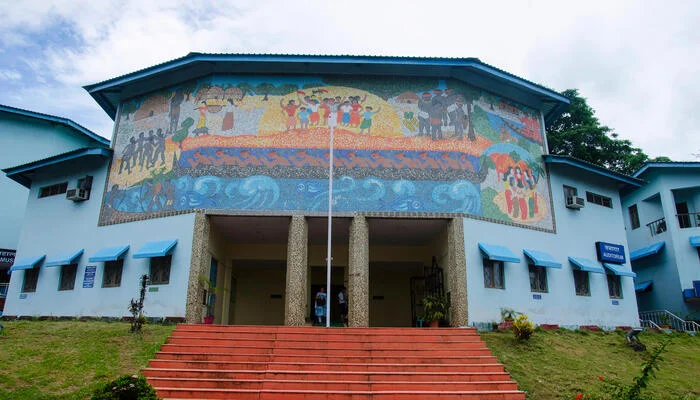 ANTHROPOLOGICAL MUSEUM Started in the year 1975-76. The Anthropological Museum is situated in Port Blair, Andaman & Nicobar Island. This museum show you the tribes of Andaman And Nicobar island like Negrito tribes ( Jarawas, Sentinelese, Great Andamanese and the Onges) and Mongoloid Tribes ( Nicobarese and the Shompens). This will be a greatest experience for you to understand the Andaman tribe's History.

TIMINGS:-
8.30 AM TO 1.00 PM & 1.30 PM TO 4.30 PM (CLOSED ON MONDAY & GOVT HOLIDAYS)
ENTRY FEE:
NORMAL:- 10/- & CHIDREN:- 3/-
Port Blair, the capital of the Andaman and Nicobar Islands, is a stopover for tourists to this union territory in the Bay of Bengal. Although the neighboring islands attract all kinds of tourists, Port Blai still receives a sizable number of visitors due to its history. Once a British penal colony, now a popular attraction, this prison serves as a memorial to the Indian activists who fought for independence. Not so, because this bustling city has other interesting museums for those interested in learning more about culture, tradition and history. One such place is the Port Blair Museum of Anthropology. The museum mainly focuses on the indigenous tribes of the island. Port Blair Regional Anthropology Museum was established in 1975. It is one of the best museums in the city to visit. This is a well maintained museum that teaches us more about the local tribes on this island. These tribes are also said to be among the oldest in the world. The archipelago is inhabited by six main tribes: Onges, Sentinelese, Jarawas, Andaman, Shompens and Nicobarese. These tribes maintain limited contact with the world and very little is known about them. On normal days it is not allowed to enter the tribal area, but this requires special permission. Therefore, this museum is one of the means to learn and learn about the tribal life here.
---