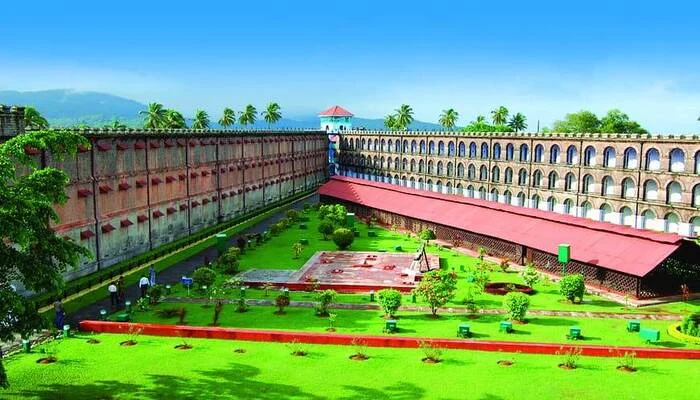 The Cellular Jail. Its old name is kalapani and this was a prison made by Britishers to exile political prisoners who were involved in the freedom struggle of India. The Cellular jail construction time was around 11 years ( 1896 - 1906). Many Freedom fighters of India like Batukeshwar Dutt, Yogendra Shukla and Vinayak Damodar Savarkar were sent to this jail. Now the jail is announced as national memorial monument of India. This jail shows the dark period of Indian freedom struggle. Thousands of freedom fighters sent to this jail to give inhumane punishments. Many freedom fighters died due to inhumane punishment and many were hanged.

TIMINGS:
09:00 AM TO 01:00 PM
02:00PM TO 4:00 PM (CLOSED ON MONDAYS)
ENTRY FEE:-
INDIAN: ₹ 30/- PER HEAD
FOREIGN: ₹ 100/- PER HEAD
VIDEO CAMERA/HANDYCAM (NON PROFESSIONAL): ₹ 200/- PER CAMERA.
VIDEO CAMERA/HANDYCAM (PROFESSIONAL): ₹ 1000/- PER CAMERA.
One of the main tourist attractions in the Andaman Islands is a mobile prison. This place is a burning memorial to the dark days of British colonial rule in India. The cell or central prison was once synonymous with Andaman and "Kalapani" or "black waters". Today, the prison is a pilgrimage site for Indian freedom fighters. If you are a nationalist and extremely proud of the sacrifices of your country's brave children then this is the place you must visit. A very popular tourist destination is the mobile prison. A prime example of the extreme hardship faced by freedom fighters, risking their lives to gain independence for the country. You must visit this place to fill your heart with pride and patriotism. Here you can see a miniature of the entire prison with all seven wings, three of which are still standing today. The gallery of old photographs and the huge library of the free movement is a haven for researchers. After the museum, head downstairs to the green lawn, where a light and sound show takes place in the late afternoon and early evening. Here you will find a memorial to the martyrs with models of flagpoles, an oil factory operated by prisoners, various tools of punishment and torture and finally the gallows . Famous prisoners brought here include Barindra Kumar Ghosh, Batukeshwar Dutt, Babarao Savarkar, Vinayak Damodar Savarkar, Jatish Chandra Pal, Fazl-e-Haq Khairabadi and Yogendra Shukla, etc. The guards are especially concerned about Veer Savarkar and do their best to break his spirit. His cell overlooks the gallows. He had to watch his fellow countrymen die one by one, every day.
---